MEDINA RIVER RANCH RESORT, BANDERA, TX – Hang around "serious" off-road enthusiasts long enough and you'll inevitably concur with the conventional four-wheeler contention that a "stock" vehicle … unaltered, straight off the lot without a single modification … is not a "serious" off-road vehicle.
Ditch one more stereotype. After four-wheel exploring this majestically rugged piece of Hill Country terrain at the wheel of a 2012 Nissan XTerra, I can personally attest that it just ain't so.
It was not just the XTerra that I and a host of automotive/outdoor media folks were allowed to drive several weeks ago during an event that the company aptly dubbed "The Nissan Off-Road Experience." We were handed the keys to the entire lineup, from the Titan pickup and its compact cousin the Frontier to the classic Pathfinder SUV and its flagship big brother the Nissan Armada.
Nissan Corporate Communications manager Steve Parrett and crew led an advance team of trail designers to mark an off-road test route on the sprawling, rocky property 55 miles west of San Antonio. The result was as challenging a trek as anything I've driven. I figured that one out when I motored up to the first high-rise climb of the trip … and believe me, it was a trip.
If you've ever brought a high-powered bass boat up on plane, showering down on the throttle as the bow rises higher and higher until nothing ahead is visible, when sheer faith is the only thing you have until you trim down the motor, feel the bow descend and, ultimately, the rig settles down and can finally breathe, you know the sensation. It's a gut check. It's one that I had previously experienced only once on the same scale, many years ago on a craggy hillside near Georgetown.
The experience almost gave my white-knuckled passenger a heart attack. Fortunately … or, depending on your outlook, unfortunately … I was too young and enamored with all things road-radical to be anything but jazzed about it.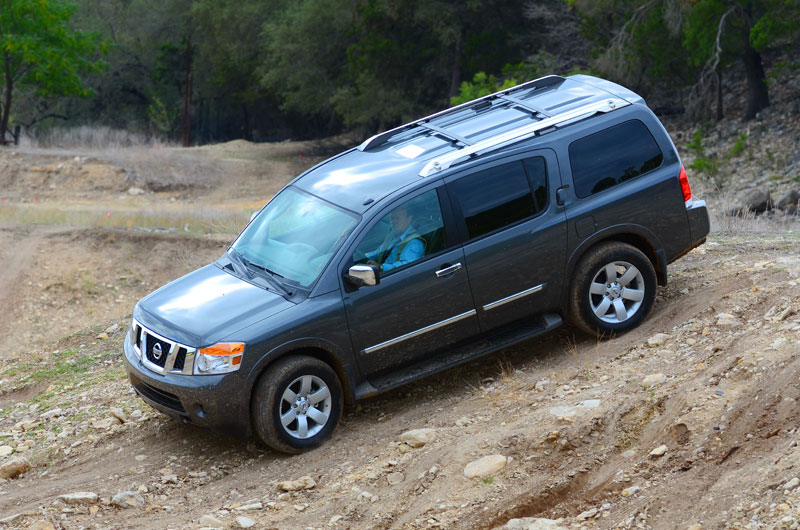 Back then I was into off-road vehicles in a big way, so much so that I ignored the obvious insanity of the budget I relegated to acquire just about every custom accessory known to West Coast off-road aftermarket truck-tricking companies so that I could own the baddest Blazer in Texas.
It took tons of money and barrels of fuel to feed that beast. I know of at least one mechanic who financed his kid's freshman year in college with the incessant flow of money that poured into that vehicle.
I digress, but for a reason. You can't teach a 23-year-old kid anything, especially in regard to finances and the questionable need for high-powered four-wheelers and half-ownership in at least one offshore fishing rig.
Now, however, at an age well beyond twice that figure and with, I would like to think, immensely better judgment, I'm just a tad more conservative with the money I spend.
If I were to drop the dollars for an off-road animal of a truck or SUV, I would do so with the intent of getting the entire package at once. Everything I drove that brisk autumn day, regardless of model, proved that it is now completely doable.
No accessories required.
That said, once again, if I were to drop the bucks for a new Nissan 4WD pickup or SUV, there would be snowballs piling up in the Sahara before I'd put said vehicle through the murderous terrain that was carved out of the brush for the aforementioned test drives.
No way. Never. Zip. Out of the question. These are not just "serious" four-wheel-drive vehicles, depending upon one's budget and personal preferences, they are also luxury vehicles. It seems a bit of a paradox to mix the two components, but again I speak from experience on this one.
The gentleman who picked me up from the airport in San Antonio and drove me to the ranch just outside of Bandera did so in a brand-new Nissan Armada. The Armada is a full-size SUV with the capacity to accommodate eight passengers amongst 97.1 cubic feet of cargo space. There are multiple seating configurations to fit every need from Friday night football games to pre-dawn drives to the deer stand come Saturday morning.
Nissan touts the Armada as having "built-in heroic capability, expressive design and exceptional comfort." The last two traits are up-front understandable, and in fairness, I did not pause during the press briefing to ask for a definition of "heroic capability."
Lest I call Parrett and take his time to request a definition, I think it's safe to provide my own. Roughly translated: If you are crazy enough to steer a new Nissan Armada SUV down the Ranch Trail From Hell, it can handle it (mesquite limb scratches, excessive mud splatters and dust as thick as a door mat notwithstanding). It can not only handle it; it can eat a trail like that for breakfast and have room left over for a great big bowl of Rocky Road.
With around 4 hours to kill and a serious yen to get some good photos of the ranch's abundant exotic game species, I asked Parrett if it would be okay if I took the XTerra (which I had yet to drive) out on the ranch road to see what I could find. He graciously agreed.
Right up until sunset, I put 37 miles on that billy goat of an SUV, about a third of which was spent off the ranch road. Emboldened by the morning drill and knowing that the 4WD XTerra is the epitome of the modern-day "stock" off-road vehicle, I ventured into countless senderos and pastures.
My mission? To explore strange new trails, to seek out exotic game animals of trophy proportions, to boldly go where no man has gone before … well, not in an SUV, anyway.
What a journey. One, in many ways, that mimicked similar "gimme" photo shoots and hunts that I had attempted before.
Take, for example, the resident zebras. The afternoon we entered the ranch in that deep-green Armada, the black-striped horses all but walked up to the truck and gave us autographs. Soon as I started looking for them they might as well have been ghosts.
I had almost abandoned the mission when one of the stocky, bristle-maned beasts appeared deep inside a rock-strewn draw that could only have been created by thousands of years' worth of runoff gnawing away at the limestone. Then out came another. I followed the animals as far as I could, courtesy of the XTerra's shift-on-the-fly 4WD and "Descent Control" function" ("Hill Start Assist" is yet another). I realized after the drive that throughout the entire excursion I had not once dropped the 4WD into low gear … an oversight that was obviously unnoticeable.
Zebras in sight, I clambered out of the truck and down the steep slope of the draw, side-stepping random mottes of prickly pear and trying not to lose my footing on one of countless loose rocks that could have sent me tumbling down the hill. Fear is a great facilitator of abilities one does not know one possesses until one needs them, in this case an impeccable sense of balance. The $7,000.00 Nikon telephoto strapped around my neck seemed to hone my extreme balancing abilities to new and undiscovered levels.
Ultimately, I got my zebra photos. And just before that, some really gorgeous shots of a trio of mature blackbuck antelope playing follow the leader while the setting sun backlit their tall and spiraling ebony horns. I also got shots of Sika deer, axis deer, a young mouflon ram and a rust-colored red stag that was limping from a recent encounter with another large-racked competitor.
And oh, yeah. The gnu. What's an exotic animal photo safari without at least one good gnu photo?
Maybe next time I'll make it easier on my feet and wear Gnu Balance hiking shoes. (Okay, admittedly weak, but how many chances does a writer get to type the word "gnu?")
My spirits and energy re-gnued, I climbed back into the idling XTerra and enjoyed a leisurely drive back to the lodge where my cohorts were already gathered around a dinner table the likes of which you might have found used by King Arthur's court.
I won't try to describe the taxidermy work inside of Medina River Lodge, other than to say it holds the best-looking mounted pair of battling African lions that I've ever seen. (If you come across another mounted pair of African lions in battle, let me know. We'll compare notes.)
Going to the grocery store or climbing a rock-littered, high-climbing vista amidst the salt cedar and mesquite trees of the Edwards Plateau, there's something in the latest "armada" of Nissan four-wheelers to meet the needs of every truck-driving Texan and then some.
"Serious" four-wheel-drive vehicles have never been so stand-on-their-own accessible. Anyone in the vehicle-shopping, test-driving mode for a new pickup or SUV, large or mid-sized, is doing himself a serious disservice if the process doesn't include a test drive of one of the 2012 Nissan fleet's remarkably diverse options.
How far you take it is up to you, not the truck.
(Note: For more information on Medina River Ranch Resort, go to http://www.medinariverranchresort.com/index.html)